On a September day in 2013, Jeffrey Epstein was out for a walk in New York, five years after his conviction for solicitation of a minor. There were several people in the group, including the famous filmmaker Woody Allen and his wife Soon Yi-Previn.
The walk quickly gained media attention. The gossip column Page Six wrote about it shortly after, in a story detailing Epstein's abuse.
The article was mainly about Epstein and Allen. But there was a man with close ties to Epstein who barely made it into the picture that was published in the New York tabloid press. But the photographer took another photograph, which shows the person out of focus at the back of the tour group: The renowned Norwegian diplomat Terje Rød-Larsen.
Rød-Larsen has not answered questions from The Norwegian Business Daily (DN) about his connections to Epstein in the past year. But he recently wrote about it in a letter to supporters of the think tank International Peace Institute (IPI), of which he is president. Rød-Larsen called it a "a grave error of judgement" to borrow $130,000 from Epstein privately, but denied that this had any connection to the UN-affiliated think tank. Several other links to the deceased financier were not mentioned or explained.
The board chairman of the think tank, the former PM of Australia, Kevin Rudd, has taken a hard line against Rød-Larsen, and demanded a report from him. In addition, he will recommend an independent investigation of the issue.
At the same time, DN can now for the first time publish a picture showing Rød-Larsen and Epstein together. According to DN's sources, Rød-Larsen has a been a frequent guest at Epstein's mansion in Manhattan.
Promissory note
Rød-Larsen has not responded to DN's inquiries about the walk, which took place two months after he signed a promissory note that obliged him to pay Epstein $130,000 by the end of the year.
However, the former Norwegian Cabinet Secretary and UN Envoy is not the only one who can tell about what happened. The Norwegian Håkon Gundersen was also participating on the stroll in New York.
He and Rød-Larsen have been friends for a long time. They worked together in the research foundation Fafo in the 1980s, among other things. Later, Gundersen became known as a filmmaker.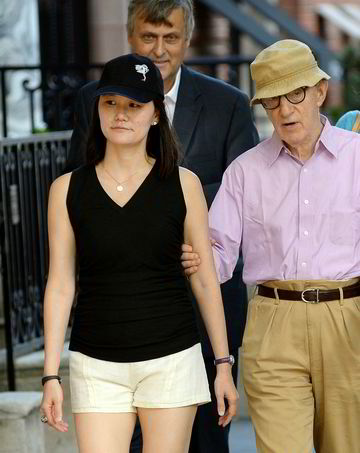 This is how it came about
According to Gundersen, the walk came about in September 2013 due to Rød-Larsen's contact with Epstein.
"I heard that Epstein knew Woody Allen and several other famous film producers. With my background, I thought it was very interesting," he says to DN.
He says that Woody Allen appeared, and that Epstein told him: "Here you will meet someone else who is also very interested in film."
"I turned around and there was Woody Allen. It was of course a very interesting contact to get."
Then they went for a walk in Central Park in what he estimates to be "maybe two hours." The outing ended at Epstein's mansion, before moving on in the direction of Allen and Yi-Previn's apartment. Then Gundersen said goodbye, he says.
Have not talked
"How has Rød-Larsen described his relationship to Epstein? How did he describe it in 2013?"
"We have not talked much about that, but as I said, my impression was that they had an ok relationship," says Gundersen.
"Do you know any details beyond that Rød-Larsen and Epstein had contact?"
"No, but it was no secret that they had contact. I have also read about Epstein's support for IPI afterwards, and may also have heard about it at the time, although I do not remember now when it may have been.
"Have you asked what the contact with Epstein was about?"
"No, I have not actually done that. And now it's been a while since I've had contact with him."
"What did Rød-Larsen know about Epstein's background?"
"You have to talk to Terje about that."(Vilkår)Copyright Dagens Næringsliv AS og/eller våre leverandører. Vi vil gjerne at du deler våre saker ved bruk av lenke, som leder direkte til våre sider. Kopiering eller annen form for bruk av hele eller deler av innholdet, kan kun skje etter skriftlig tillatelse eller som tillatt ved lov. For ytterligere vilkår se her.