October 2013 was an important month for the UN-affiliated think tank International Peace Institute (IPI). Seven months since meeting with Bill Gates, one of the richest people in the world, 2.5 million dollars was transferred from Gates' philanthropic foundation to the think tank, to fund projects to eradicate polio.
Gates had been introduced to IPI by Jeffrey Epstein at a meeting in Strasbourg, France, where IPI representatives had put forward a proposal of how IPI could help Gates in the fight against polio.
Since the meeting in 2013, the Gates Foundation has awarded IPI more than eight million dollars, and the foundation has been identified as an important donor in the annual report every year.
Norwegian business newspaper DN can now reveal correspondence that shows how the convicted financier Jeffrey Epstein played an important role when the first millions of dollars were transferred in October 2013.
Epstein was notified
"Today a check is sent for 2.5M."
On October 23, Boris Nikolic, an adviser to Microsoft founder Bill Gates, sends an email. Since leaving the software company, Gates has become a full-time philanthropist through the foundation that carries his and his wife's name, the largest in the world.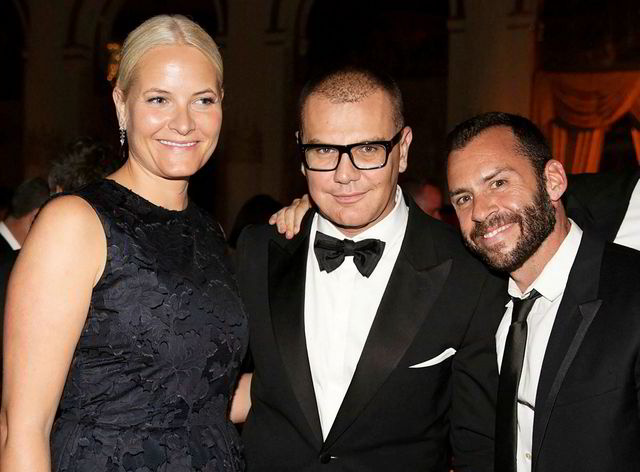 In the email, Nikolic asserts that 2.5 million dollars have been transferred to the think tank IPI, and the foundation is preparing a check for a further 2.5 million dollars.
"I am on it," Nikolic writes of the ongoing fundraising.
The recipient of the email, however, isn't someone with an official position at the think tank. The email was sent to Jeffrey Epstein, who thus forwards it to Terje Rød-Larsen, the Norwegian president of the UN-affiliated think tank.
On both sides
This wasn't Epstein's only involvement. Two weeks earlier, October 9, he sent instructions to IPI president Rød-Larsen, a former cabinet secretary in Norway and UN Special Envoy.
That day Epstein received an email IPI's then finance director David Witt had sent to a grant administrator at the Gates Foundation. It was forwarded to him by Rød-Larsen. Epstein reacted strongly. Epstein was unhappy of the fact that he had not seen the phrasing earlier, and gave Rød-Larsen clear instructions on how to communicate with the Gates Foundation: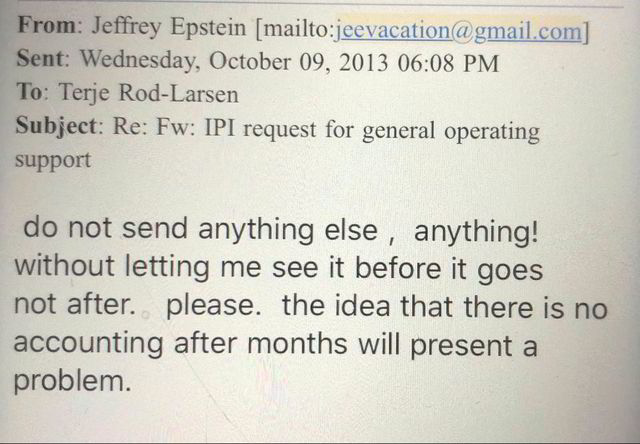 He wrote, "do not send anything else, anything! without letting me see it before it goes. not after. please." Epstein was concerned that the email from the finance director might create problems due to lack of bookkeeping.
Epstein's concerns were forwarded by Rød-Larsen to Witt, who confirmed the exchange to DN.
Pleaded guilty
The episode happened several years after Epstein pleaded guilty to charges of soliciting a prostitute, a minor, as well as paying compensation to a number of women. A federal investigation had identified at least 36 victims, according to the Miami Herald.
As early as 2006, as the investigation of Epstein was under way, some politicians had returned money from Epstein. Later, in 2011, British Prince Andrew was criticised for maintaining his friendship with Epstein. Last year, Prince Andrew stated he showed "poor judgment."
Despite the verdict, Epstein managed to re-enter the elite after serving his sentence. Last year, The New York Times reported that he kept being included among the powerful of New York City. Anchor Katie Kouric and Woody Allen attended dinner at his home in 2010. The following year he attended a party together with, among others, Jeff Bezos and Elon Musk, founders of Amazon and Tesla respectively. Several notable institutions praised him and boasted of his achievements, including the prestigious Harvard university.
Crown Princess Mette-Marit of Norway met Epstein several times between 2011 and 2013. Last year, she apologised for not scrutinising his past more thoroughly. Former prime minister Kjell Magne Bondevik of Norway met Epstein at a dinner party in 2013, but declined to pursue funding from Epstein having found out about Epstein's past in a Google search.
Epstein had been suspected of a larger number of crimes than was included in his plea deal. Last year, he was arrested in the US, and charged with further crimes of trafficking and abuse. He was never charged, as he died in custody in August 2019. Coroners found he took his own life.
Not answering
Since autumn 2019, the Norwegian business newspaper DN has sent IPI numerous questions regarding the think tank's relationship to Epstein. The only response has been a short and unsigned press release, published hours after DN published a documentary in November 2019. In the article, several links between Epstein and IPI were revealed, among them a grant of 375,000 dollars from one of Epstein's foundations.
In the press release, the think tank acknowledged the receipt of grants, emphasizing that it was lawful. Simultaneously, the think tank stated that it would now make a donation of a similar amount. No other connections were mentioned.
DN has pursued all the partakers with questions on Epstein's role in the cooperation between IPI and the Gates Foundation. Neither IPI nor Rød-Larsen have responded to DN's inquiries. Earlier, Rød-Larsen has repeatedly stated that he does not speak to DN.
Response from the Gates Foundation
DN has also sent the Gates Foundation a number of questions:
"The Bill & Melinda Gates Foundation works with the International Peace Institute, an organisation dedicated to promoting peace and security, to gather critical analysis that supports our efforts to improve health in Pakistan and Afghanistan," the Department of Communications wrote in an email on Friday, September 25.
And, after more questions:
"The foundation has never had any financial dealings with Epstein. We work with the International Peace Institute, a grantee that supports our efforts to improve health in Pakistan and Afghanistan."
Boris Nikolic, the Gates adviser who emailed Epstein to let him know the money was on its way to IPI, was appointed the third-in-line executor for his estate after Epstein's death. He denied his role.
Nikolic has read text messages regarding this story, but has not answered them.
Lawyers for Jeffrey Epstein's estate have not responded to DN's inquiries about the case.(Vilkår)Copyright Dagens Næringsliv AS og/eller våre leverandører. Vi vil gjerne at du deler våre saker ved bruk av lenke, som leder direkte til våre sider. Kopiering eller annen form for bruk av hele eller deler av innholdet, kan kun skje etter skriftlig tillatelse eller som tillatt ved lov. For ytterligere vilkår se her.