In March 2016, The International Peace Institute (IPI) was completing a list of donors who receive special recognition in the think tank's annual report. The foundations of the billionaires Bill Gates and George Soros were listed.
But there was a major contributor who was not mentioned.
An IPI employee asked if the donor should be thanked, as "he gave a lot of money" to fund several events. Later that day, she sent a new message, referring to a discussion with IPI President Terje Rød-Larsen:
"As discussed with Terje, please do not mention Leon Black," she wrote in one of several emails The Norwegian Business Daily (DN) has obtained.
Ruthless
"Nobody Makes Money Like Apollo's Ruthless Founder Leon Black," was the title of a Bloomberg interview with the dollar billionaire earlier this year. He was called "The Most Feared Man in Private Equity."
Black is one of the most powerful figures on Wall Street, New York's financial center. His fortune is estimated by Forbes to be around eight billion dollars, making him the world's 224th richest person.
He is also known for his ties to a sex offender. Earlier in October, The New York Times described Black as "the billionaire who stood by Jeffrey Epstein," with new details about how Black continued to do business with Epstein after Epstein's 2008 conviction for solicitation of a minor.
The reporting has lead to strong reactions. The board of Black's private equity firm, Apollo Global Management, will examine his relationship with Epstein at his request. The stock of Apollo has fallen, and one Apollo investor has halted new commitments over Black's ties to Epstein.
Several prominent figures broke ties with Epstein when it became known that he was under investigation in 2006. Nevertheless, the financier managed to get back among the elite after imprisonment. He entertained business titans, scientists and politicians, like Microsoft founder Bill Gates and former israeli prime minister Ehud Barak, until he was arrested by the authorities in 2019, accused of human trafficking and abuse.
IPI president Rød-Larsen and Black have one thing in common: According to DN's sources, they were both frequent guests at Epstein's New York mansion in the years after the conviction – a description neither Black's spokesperson nor Rød-Larsen have responded to.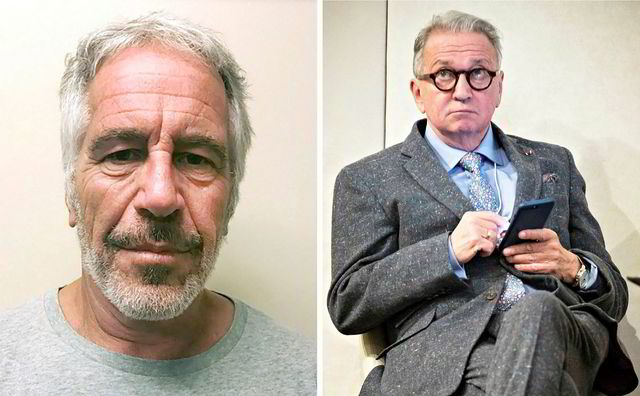 $950,000
Internal documents show that Black supported IPI with $950,000: Initially $200,000 received in January 2015, and then $750,000 in May 2015.
This was over a tenth of the total that was donated to the think tank that year.
"He would like the donation to remain anonymous," it says in an email sent between IPI employees, after they had been in contact with Black's office about the financial support. The money went, among other things, to a conference on pandemics and a forum in Salzburg.
IPI thanks major contributors in its annual reports, but it is also an option to give money anonymously. This is common practice within philanthropy.
In 2016, the head of philanthropy at the Black company Elysium Management LLC contacted IPI, and requested a tax receipt for his donation. Elysium Management LLC is one of the companies the US government in the Virgin Islands is investigating because of Black's relationship with Epstein.
There are several ties between Black's philanthropy and Epstein, who for a period held positions associated with Black's family foundation. A spokesman for Black has said that Epstein was one of his advisers between 2012 and 2017. One of the areas he helped with was philantrophy. Black paid at least 50 million dollars to Epstein for his services, according to the New York Times.
The prestigious university MIT is one of several organizations that have investigated their own ties to Epstein. The report from earlier this year states that Epstein at one point said that he got Black to donate five million dollars to MIT anonymously.
Spokesperson: This is why Black donated
DN has asked a number of questions to Black's spokesperson and IPI, including whether Epstein was in any way involved in Black's financial support for the think tank. IPI have not answered. A statement from Black´s spokesperson did not address the issue.
In a letter to Apollo investors sent last year, Black wrote that "on a few occasions, I donated money to certain charitable organizations with which Mr. Epstein was affiliated". The spokesperson has not answered if IPI was one of these organizations at this point.
"Consistent with his longstanding support of organizations focused on foreign affairs and world peace, Mr. Black donated to the International Peace Institute because he was impressed with the organization's mission and charitable work. The donation was made with full transparency, similar to his generous support of many other philanthropic organizations", the statement from Black´s spokesperson provided to DN said.
"Mr. Black continues to be appalled by the conduct that led to the criminal charges against Mr. Epstein, and he deeply regrets having any involvement with him" a spokesperson told The New York Times earlier this month.
Close connections
IPI, like Black, has close ties to Epstein. DN reported earlier in October that the president, Terje Rød-Larsen, was both in debt to Epstein at one point and later authorized a payment to him through the think tank. IPI denies that Epstein received any payment.
Epstein also donated money to IPI in secret. In the annual report from 2011, IPI praises an anonymous donor, who helped start a fund with "a generous contribution." But the following year, an Epstein foundation took the credit.
DN reported last year that IPI received at least $375,000 from the Epstein Foundation Gratitude America. This was the sum that was listed in the foundation's tax documents for 2017.
Now it turns out the Epstein donation was larger than $375,000.
IPI sent out a press release last year, after DN had reported the support from Gratitude America. The statement said that a similar sum as the one received from the foundation would be donated to programs that support victims of human trafficking and abuse.
In IPI's recent financial statements for 2019, it appears that the total sum is $525,000 – $150,000 more than what was previously known.
Another foundation
IPI also received money from another Epstein foundation.
In April 2014, the UN-affiliated think tank received a check for $14,158. The money came from Enhanced Education – an Epstein foundation.
After the check arrived, an accountant contacted the assistant to IPI's president, Rød-Larsen. "The check is for the reimbursement of Larry Summers flight," she wrote.
Summers has long been a powerful figure in American politics, including as treasury secretary. He has several links to Epstein, and is one of many profiled names in the logs of Epstein's jet.
DN reported earlier in October that it was Epstein's office that sent IPI instructions for payment of $100,000 to Summers for a peace project in Mongolia.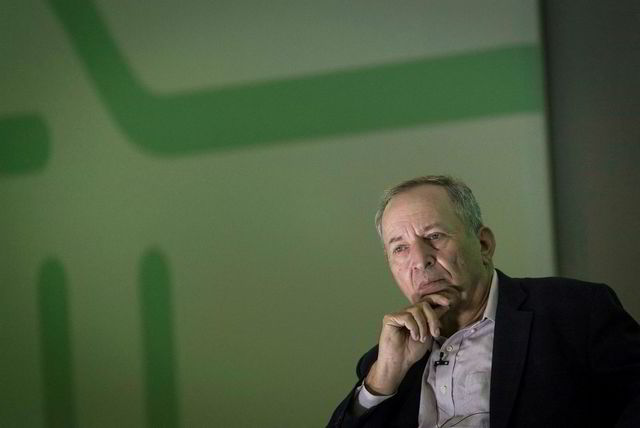 Kazakhstan
Why did Epstein pay for the flight, and what was the purpose of it? Neither IPI, Larry Summers' office nor attorneys for Epstein's estate have responded.
"You don't call me directly," Summers said when DN contacted him in September.
But an email sent from Epstein to Rød-Larsen earlier the same month, April 6, 2014, may provide some of the explanation.
The email concerns Summers, with "kaz" in the subject field.
Epstein outlined how Summers could help with challenges in Kazakhstan, pointing to five issues. Among them was how the country could remain attractive to foreign investors in the face of political instability in the region.
Succeeding would require "an approach that melds a broad and high-level political perspective with technical economic expertise," Epstein wrote.
According to IPI's website, Rød-Larsen was in the country meeting several senior officials one month before Epstein sent the email. The purpose was to further develop the department's "close relations with Kazakhstan."
Terje Rød-Larsen, IPI, Summers' office and the Epstein estate's lawyers have not answered questions for this story. (Vilkår)Copyright Dagens Næringsliv AS og/eller våre leverandører. Vi vil gjerne at du deler våre saker ved bruk av lenke, som leder direkte til våre sider. Kopiering eller annen form for bruk av hele eller deler av innholdet, kan kun skje etter skriftlig tillatelse eller som tillatt ved lov. For ytterligere vilkår se her.