– There have been late payments before, but this is something different, says Frithjof Boye Hungnes (55), general manager of Propeller Records of Norway.
The record company has high-profile Norwegian artists such as Highasakite, Moddi and Katzenjammer in its stable.
– There have been late payments before that then came with the next settlement. Now payments have been missing for a long time and it appears to be, if not a conflict, then certainly a situation that must be resolved, says Hungnes.
Hungnes gets his streaming royalties through the Norwegian company Phonofile.
A number of other record companies and artists who have contracts with Phonofile are in the same situation and have not received any money for music streamed via Tidal since January.
See extensive list of DNs previous coverage of Tidal here (in Norwegian).
Tidal royalties not getting through
Phonofile manages the digital rights of small, independent record companies. Among other things, this involves claiming streaming income on their behalf from services such as Spotify, Apple Music and Tidal.
In all, Phonofile has contracts with more than 2,000 independent record companies on a global basis. More than half of these have music on Tidal and are thus affected by the temporary stoppage in payments, according to Phonofile.
A letter to the parners
On Tuesday, Phonofile sent a letter to all its record company partners. In the letter, which DN has obtained, they explain why there have been no payments, and at the same time claim that there have been problems with payment from Tidal for some time.
Those who have not been paid also include MTG Music, a medium-sized, independent Norwegian record company with artists such as Raylee and a large part of the catalogue of Erik & Kriss.
– We have not received a single payment from Tidal since December. Tidal may be smaller than Spotify, but this money is still important to many, says Larry Bringsjord (57), general manager of MTG Music.
Bringsjord is payed via Phonefile, which means that when he talks about not receiving payments from Tidal, he is referring to not getting transfers from Phonofile for music streamed on Tidal.
Blaming each other
Phonofile maintains that it is Tidal that neither pays nor reports streaming figures in time. Tidal on the other hand says it has paid all the bills and that the problem lies with Phonofile.
«Over the last 12-18 months, Tidal have underperformed with respect to both reporting and payment,» writes Phonofile in the letter.
The hip-hop mogul Jay Z bought Tidal from Schibsted and Platekompaniet among others in March 2015 for SEK 464 million.
19 big international artists are now part-owners of Tidal, including Madonna, Kanye West and Rihanna.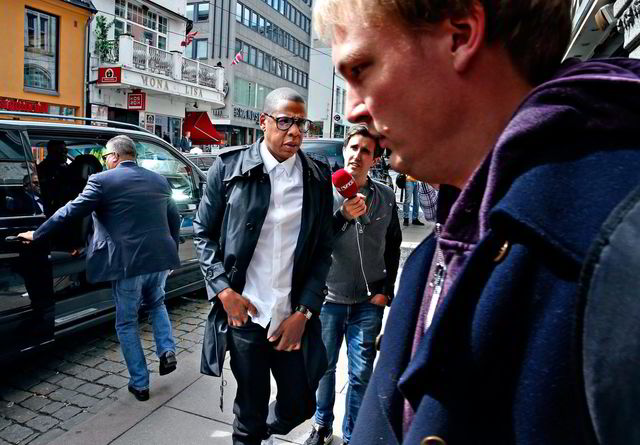 In its letter, Phonofile points out that the daily reports of analysis data (which include streaming figures among other things) are missing.
«To give reasonable benefit of doubt, we have estimated their challenges to be mainly technical, and not ill will towards honouring the terms of our agreement.»
Payments after DN made contact
DN asked Tidal if they have paid all the bills they have received from Phonofile and whether they have delivered all the streaming figure reports that Phonofile needs to produce the bills. When confronted with the claims from Phonofile, Tidal answered as follows:
– Tidal is an artist owned platform. We pay more to all our artists including independent artist then any other service. In this case phonofile is the liaison between Tidal and hundreds of artists. Last invoice for March and April combined was received on 14th of June and paid on 28th of June. , said a spokesperson for Tidal.
DN has seen documentation of one payment from Tidal to Phonofile earlier this year.
DN has also seen one report with a timestamp that indicates it was delievered on time to Phonofile. DN has asked Tidal for documentation on the remaining ones being delievered on time, but has not recieved further documentation per now.
DN first made contact with Tidal's press apparatus on the 27th of June to confront them with the claims about lack of payment.
The following day, Tidal paid just over a million Norwegian kroner to Phonofile. The same day or the following day a further two million kroner was paid. DN has seen confirmations of payment to support this fact.
DN has confronted Phonofile's managing director Erik Brataas (48) with Tidal's response.
– We obviously have completely different perceptions of the reality of the problems, says Brataas, who does not wish to go into details about the matter.
Talking about negotiations
The letter that was sent to 2,000 partners gives the impression that Tidal and Phonofile are negotiating:
«We are aware that Tidal is a significant partner for both Phonofile and many of our labels and it is our intention to get the relationship back on track through negotiations as soon as possible,» Phonofile writes.
Confronted with Tidal's claim that the problem lies with them, Brataas still maintains that it is Tidal that is neither paying nor reporting streaming figures in time. He also emphasises that they are still talking to Tidal.
– DN has got hold of a letter that was sent to our record companies and only meant as information for them. The most important thing for us is to ensure that we keep a good dialogue going with both the record companies and Tidal. We are working to find solutions and better routines for the future, he says.
A turbulent year for Tidal
Six executive officers have left Tidal since Jay Z bought it last year.
In April this year, DN was able to reveal that Jay Z is preparing a huge lawsuit because he believes he paid too much for Tidal. Jay Z's main claim is that Tidal/Wimp actually had far fewer subscribers than the company stated when it was sold, and that it was in a weaker financial position than the buyers were led to expect.
The ongoing legal preparations were revealed in a letter obtained by DN.
DN has learned, a likely future claim from Project Panther Bidco will be in eight figures (USD).
For more news on Tidal follow Markus Tobiassen on Twitter or DN Etterbørs on Facebook.
(Vilkår)Copyright Dagens Næringsliv AS og/eller våre leverandører. Vi vil gjerne at du deler våre saker ved bruk av lenke, som leder direkte til våre sider. Kopiering eller annen form for bruk av hele eller deler av innholdet, kan kun skje etter skriftlig tillatelse eller som tillatt ved lov. For ytterligere vilkår se her.